Lack of funds, time wasting and 'gazundering' are among the reasons for more than 300,000 property transactions falling through every year.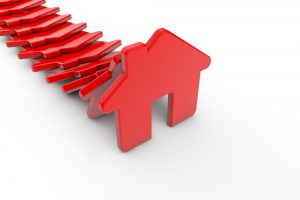 Data out today from the HomeOwners Alliance and IMMO.co.uk revealed one in five people had suffered from a collapsed sale, with 69% being the fault of the buyer.
The situation is deterring many people from selling their homes, a factor which could be affecting housing supply which could in turn increase problems for first-time buyers.
According to the survey it's not simply the hassle of a home sale falling through which is putting sellers off, but the immense cost.
Failed sales, the HomeOwners Alliance figures showed, were costing half of homeowners who had experienced the problem £2,700 in costs on average. But in one in ten cases the costs had been more than £5,000. It means the total cost to sellers was £400 million every year.
What is more, the research revealed, nearly one in ten of sellers had fallen foul to so-called gazundering – when the buyer lowers their offer just before the exchange of contracts.
Paula Higgins, chief executive of the HomeOwners Alliance, explained it was common to hear about would-be buyers losing their dream home when sellers accepted higher offers, but less was said about sellers forking out thousands in wasted fees when buyers changed their minds.
She added: "Gazundering and time wasting is a huge problem. The home selling system is so unreliable it's deterring homeowners from selling – adding to the ongoing housing shortage crisis as a lack of suitable homes is one of the barriers to people moving up the property ladder.
"Buyers need to have a little more skin in the game too. An earlier commitment – for example through reservation agreements – would go some way to avoiding these situations."
The research identified 80% of UK adults favoured a system where buyers showed proof of funds before they were allowed to put an offer in to purchase a property.
A further 65% agreed with the idea of putting in a reservation agreement which required buyers and sellers to put down a non-refundable deposit to commit both sides earlier.
Some more of the report's key findings:
22% of homeowners said they had six or more different people view their home before selling. The average number is five.
34% of homeowners said risk around chains breaking down might prevent them selling up and 19% said uncertainty regarding a sale price would put them off.
20% of sellers have experienced a sale not going through to completion.
39% of sales broke down because a buyer changed their mind or found another property
28% of sales broke down because the buyer's finances were not in order
20% collapsed because a sale further up the chain falling through