More and more young people are planning to club together with friends to take out a joint mortgage in a bid to realise their dream of homeownership.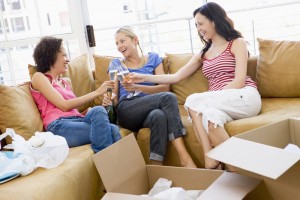 New research released today by M&S Bank discovered a fifth of millennials feared they would never be in a position to own their own home, yet 60% said they would consider taking out a mortgage in a group of four if this helped them achieve the aspiration.
The study of 5,000 adults comes just months after M&S released a range of mortgages which included a product for up to four borrowers who live in the same property to take out a joint mortgage.
Its research discovered saving for the deposit was the biggest challenge for people in the 18 to 35 age group who wanted to step onto the property ladder. It found many had less than £1,000 saved up for their first home.
However, this generation was also very open to the idea of co-ownership with friends. The study discovered that most people, 58%, would choose to share with their partner. However, 25% would be more than happy to collaborate with friends to take out their mortgage, while 1% would choose a sibling or work colleague.
Paul Stokes, head of products at M&S Bank, said: "Many young people are trapped in Generation Rent because house prices seem increasingly out of reach.
"For many, home ownership appears possible only through sacrificing certain aspects of their current lifestyle – be that moving to a different area, moving to a smaller property than they're renting, or seeing their disposable income take a significant hit.
"But our research has shown that millennials are keen for an alternative option – and joint home ownership is one of them – from housemate to mortgage-mate is a natural progression which can enable more people to achieve the otherwise unattainable: their dream of property ownership."
It emerged from the research that almost all respondents agreed there were huge benefits of living with others on top of sharing the financial responsibility. They included having company and someone to cheer you up when you are down. Many also said the mark of a good housemate was someone with whom you could binge-watch a decent box set.
M&S Bank's mortgage range also includes a £1,000 cashback exclusively for those purchasing their first home, plus a free valuation.