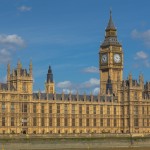 The government has pledged to fix the "broken housing market" as plans to build more affordable housing were unveiled in its new housing white paper.
The long-awaited white paper includes measures to reduce obstacles that prevent developers building on land as well as improve affordability and protections for renters and home buyers.
Sajid Javid, communities secretary, said the current system wasn't working and is one of the greatest barriers to progress in Britain today.
"Walk down your local high street today and there's one sight you're almost certain to see. Young people, faces pressed against the estate agent's window, trying and failing to find a home they can afford," he said.
"With prices continuing to sky rocket, if we don't act now, a whole generation could be left behind. We need to do better, and that means tackling the failures at every point in the system.
"The housing market in this country is broken and the solution means building many more houses in the places that people want to live."
Javid said that local authorities will be given the tools to speed up the house building process with new rules requiring developers to start building within two years instead of three.
Greater transparency and information from developers on their pace of delivery of new housing will help address the growing gap between the number of planning permissions granted and new homes completed.
Local planning authorities will have to produce a plan for housing growth and review it at least every five years to ensure enough land is released for new homes to be built.
Currently 40% of local planning authorities do not have an up-to-date plan that meets the projected growth in households in their area.
They will also have to increase the density of new homes in cities and build upwards where there is a shortage of land.
The white paper revealed that green belt land would only be built on in "exceptional circumstances".
There will be a £3 billion home building fund to help independent builders enter the market as 60% of new homes are currently built by just 10 companies.
It will be used to build more than 25,000 new homes by 2020 and up to 225,000 in the long term by providing loans for small firms and custom builders.
From April, the government will  introduce a Lifetime ISA to help young adults save for a deposit with a 25% bonus on up to £4,000 of savings a year and there are plans to extend Right to Buy to housing association tenants.
The government aims to tackle the high cost of renting by amending planning rules so councils can plan for long-term Build to Rent homes and a consultation has been launched to allow developers to offer more affordable rents.
The proportion of people living in the expensive private rented sector has doubled since 2000 and more than 2.2 million working households with below-average incomes spend a third or more of their disposable income on housing.
The paper said that steps were being taken to ensure families have better access to longer-term tenancies in private rented schemes so that they have more security.
Restrictions on funding for the affordable homes programme originally designed for shared ownership building will be relaxed so providers can build a range of homes, including Rent to Buy schemes.
The white paper also confirmed that the controversial ban on letting agent fees announced in last year's Autumn Statement would be introduced.
John Healey, shadow secretary of state for housing, said: "It is tragically clear from this feeble white paper that seven years of failure on housing under Conservative ministers is set to stretch to ten.
"We were promised a white paper; we've got a white flag.
"This is a government with no plan to fix the country's deepening housing crisis."
Graeme Brown, interim chief executive of Shelter, welcomed the government's decision to shift focus from homeowners to struggling renters.
"Talk of longer-term tenancies is welcome but risks being disingenuous unless these are rolled out across the board, not just for a handful of people living in new build-to-rent properties," he said.
"The scourge of inadequate tenancies, and indeed our broken housing system, are fuelled by the shocking lack of affordable homes available to rent or buy, so the government is right to want to 'get Britain building'.
"Cheaper and more accessible land is one of the best ways to get us building the genuinely affordable homes people across the country so urgently need. We're pleased Secretary of State Sajid Javid has announced a crackdown on what he calls 'fat cat developers' who acquire land but then fail to build on it for years. If acted on this would be a bold move that could help increase the supply of new homes.
"The white paper poses the right questions, what we need now is quick and bold action that helps people in need of a decent home tomorrow not in ten years."