It's easy to bury your head in the sand when it comes to financial admin, but if you're thinking of buying a home, checking your credit report should be a top priority, says Alastair Douglas, CEO of TotallyMoney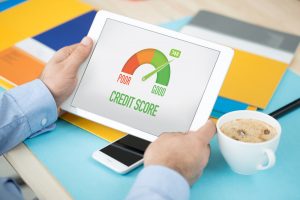 That's because the sooner you get around to looking at your file, the more time you'll have to correct any mistakes and take simple steps to boost your score.
It could save you a fortune in the long-run, as having a good score will give you the widest choice of mortgage lenders and the best chance of securing the most competitive rates on the market.
Research shows that as many as one in four people find at least one error when they check their report. It's far better to find out ahead of time when you can do something about it than when a declined mortgage application scuppers your chances of buying your dream home.
Who are the credit reference agencies?
There are three UK credit reference agencies that lenders use to assess the creditworthiness of customers who apply for loans, mortgages and other credit agreements: Experian, Equifax and Callcredit. It's Callcredit that supply the data TotallyMoney uses to create its free credit report.
The scores the agencies provide will give you an idea of how likely you are to get a mortgage, but it's not an exact science. Each lender has its own way of calculating your creditworthiness based on a variety of factors that they will never fully disclose. This is to make it harder for fraudsters to game the system.
Financial history
Your credit report will show your different bank accounts, credit cards, store cards, and loans. It will also show any credit accounts you hold with gas, electric, and telecoms companies and any payments you may have missed within the past six years.
You might find that a company has listed a late payment against your name that you don't agree with, so checking your file early will give you the opportunity to contact the lender in question and ask them to update the credit reference agency to set the record straight.
If there's a blip on your file where you missed payments because you were ill or lost your job, you can provide the credit reference agency with a 200-word statement or 'notice of correction' to explain your circumstances.
Is the information correct?
Make sure your credit report shows the correct name, address, date of birth and that you are listed on the electoral register. If you have not yet registered it's vital that you do so, as it will make a big difference to your score. Sign up at www.gov.uk/register-to-vote. Having a landline can also be viewed favourably by lenders, as it suggests stability.
Check carefully for any credit agreements that you don't recognise, which could be a sign you have fallen victim to identity fraud. If you do find anything suspicious, contact the company straightaway to let them know the account was opened fraudulently and speak to your own bank and Action Fraud for further advice.
Too much credit
Look out for any store cards or credit agreements showing on your report that you've forgotten about. If you've tucked a store card away in a drawer you no longer use, then you should contact the lender and get it cancelled. Having too much available credit may work against you when you apply for a mortgage.
Too little credit
On the other hand, some people have a low credit score because they don't have any credit. Mortgage lenders want to see you have a track record of borrowing responsibly and paying it back. So, if you find yourself in this category, applying for a credit card that you pay off in full each month may actually boost your score.
However, you should only do this if you have at least six months to a year before you plan to make your mortgage application in case you are declined. Being refused credit can harm your chances of getting credit in the future. You can use a free eligibility checker — such as our own — to find out what chance you have of being accepted for various credit cards — without damaging your credit rating.
Likewise, it's not a good idea to switch bank accounts if you're planning to apply for a mortgage soon, as lenders like to see consistency and tend to prefer borrowers who have been with their bank for at least a year.
It might seem daunting, but there's nothing to fear and everything to gain from checking your credit report as early as possible.
Click here to find out why you should be aware of the difference between soft and hard credit searches