Equity release could be the ideal way for Baby Boomers to share their wealth and help the younger generations step on the housing ladder. Here we explain a bit more about this could work.
Much has been reported about the unprecedented uptake of equity release plans by homeowners aged 55 plus.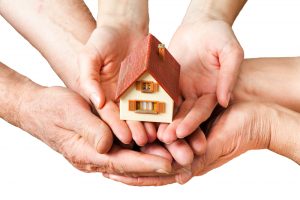 According to Statistics from the Equity Release Council Spring 2018 Market Report, the annual value of lending in the market grew a phenomenal 42% in 2017 to a record £3.06 billion. Meanwhile, the number of equity release plans taken out by new borrowers more than doubled over the previous five years.
But what has this got to do with first-time buyers and second steppers?
The availability and flexibility of plans is welcome news for Later Life borrowers. The good news is the benefits are filtering down to those aiming to get on the ladder.
These are children who had hoped to benefit from their parent's estate. Inheritance to most may seem an eternity away and one that traditionally has only come at an age when it has least effect. However, attitudes are changing, particularly with the Baby Boomer generation – also known as the Silver Surfers.
They have benefitted from house price escalation, and successfully built up significant equity in their property. They understand how post-Millennials, also known as Generation Z, are struggling to get on the housing ladder and are looking at ways of helping them.
This has led to a rise in intergenerational gifting, or financially assisting the next generation when cash is needed most.
Recent research carried out by Legal & General Home Finance and the Centre for Economics and Business Research on Silver Spenders found that some of the largely untapped housing wealth from the Baby Boomer generation was beginning to be released and shared intergenerationally with families.
Of new equity release borrowers, 15% were taking out a lifetime mortgage to help a family member with a deposit to purchase a new home.
Over the past few years, outside of social housing schemes and the Government's Help to Buy Initiative, there has been little support for first-time buyers and it has been challenging times for those wanting to get on to or step up the housing ladder.
The cost of renting has made it difficult to get a deposit together, whilst nesting with parents brings its own obvious challenges.
A recent report published February 2018 from the Institute for Fiscal Studies 'The decline of homeownership among young adults' further highlights that average house prices are 152% higher in 2015 and 2016 than they were 20 years earlier after adjusting for inflation.
Meanwhile average house prices have grown around seven times faster than the average incomes of young adults during the same period.
According to the latest report from Halifax, on Buying versus Renting, purchasing a home is actually £900 a year cheaper than renting. The average deposit of £31,751 would be considered a challenge for some to save, the average first time buyer would save £27,000 buying a property over those renting over a 30-year term.
There are obvious benefits of parents making a gift in their lifetime to family members to help with a deposit.
Aside from not being consigned to paying rent for many years, a reasonable sized deposit from equity release could reduce the interest rate a borrower would have to pay a conventional mortgage lender by obtaining a smaller loan.
There would also be the option of taking a mortgage over a shorter period, thus reducing the total amount payable over the term of the mortgage.
What is equity release and how does it work?
Simply, equity release is a vehicle for those aged over 55 to release a tax-free cash sum from their property to use as they wish. Whilst gifting to beneficiaries is now becoming a significant purpose for raising a Lifetime Mortgage, borrowers release the value built up in their home for many other purposes such as a better quality of life in retirement, paying off an existing mortgage and home improvements.
Equity release plans fall into two categories – Lifetime Mortgages or Home Reversion Plans. Over the past few years Lifetime Mortgages have become more popular as new lenders enter the market offering competitive interest rates, together with greater flexibility and being able to retain 100% ownership.
Providers are allowing borrowers the choice of either rolling-up interest known as compound interest, or making voluntary repayments, which allow customers to control the future balance of the mortgage if they wish to do so.
How much equity can my parents release?
This is dependent on several factors such as age, property value and now secondary factors such as health, lifestyle and even their location within the UK. Typically speaking parents aged 65, with a property value of £200,000 could raise up to £74,000 (37%) of their property value to gift to children. To calculate how much you could borrow, use our free Equity Release Calculator tool.
Releasing equity from your property is an important decision and not only affects the borrower financially, but equity release can also affect the future inheritance of beneficiaries. Therefore, it's important that independent equity release advice is sought due to the complexity and variations between all equity release schemes.
For more information on equity release schemes, call our chosen partners – Equity Release Supermarket on Freephone 0800 6891378